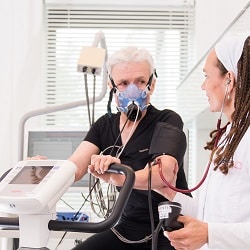 Do you suffer from shortness of breath, dizziness or palpitations during exercise? Or are you tired and your muscles sour faster than normal? Is it not possible to improve your condition, or is your performance even deteriorating?
What are we going to do?
Our sports doctor will map out your complaints. An exercise test with breath gas analysis (exercise diagnostics) examines the functioning of the heart, lungs and muscles during exercise. In this way, the cause of the complaints can be traced, or an underlying disorder can be ruled out. The test usually takes place on the bicycle but occasionally on the treadmill. Sometimes additional (blood) tests are performed. In case of abnormalities, the sports doctor can refer you to a cardiologist, a pulmonologist or another medical specialist.
How do we work?
You can contact one of our medical specialists within 3 working days. Because this examination takes place for medical reasons, it may be reimbursed from basic healthcare. You will need a referral letter from your general practitioner or a medical specialist.